Allen, TX Water Department Protects Water Resources
By Derrel Allen
One thing I can say about the Allen, TX water department: They really take action on conserving water.
I had been having some trouble with my sprinkler system and that caused me to do some sprinkler head replacements. On this early September Thursday evening, I tested one particular troublesome watering zone just before heading out to dinner. Everything looked fine. Coming home from dinner around 8:30 p.m. I noticed some excessive water coming from the front of my house. After parking and going through the back of the house, I stepped out into the front yard where I noticed lots of water seemingly coming from the front curb area of my yard. Immediately I thought "Oh no! What have I done?" Upon closer inspection, I noticed a small water fountain coming from one of the seams in the concrete of the drive way. At this point I realized it was more than just a sprinkler malfunction.
A call to 9-1-1 and the water department was dispatched to the area. About 9pm, a truck shows up and one man. After his assessment of the situation, he called for backup, and began going to the neighbors in my cul de sac to inform them of the impending water shut off. I headed off to my domicile to catch the evening news and finish some emails. I checked the water just before bed time, and noticed it was off. Fortunately, we had drawn what we assumed would be enough water to sustain for a few hours. I stepped outside to chat with a gathering of city water workers. By this time there were 3 trucks and half a dozen men. I could here them calling in the heavy equipment and addressing the other needs for the project at hand. I went to bed confident that the situation was truly under control.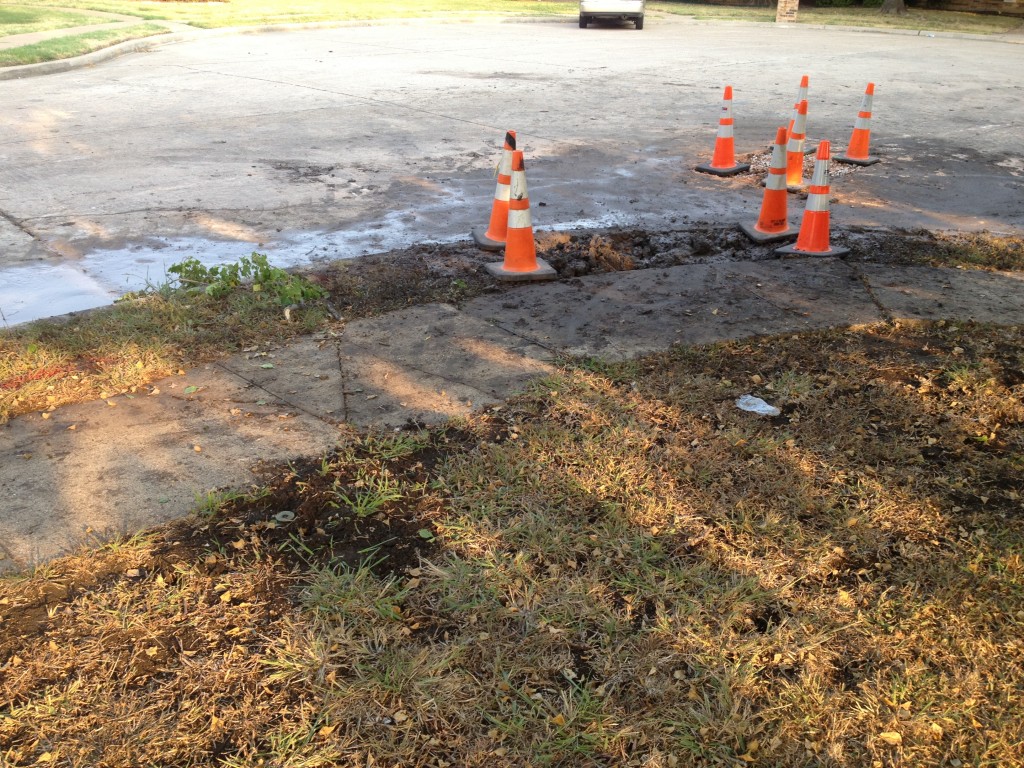 At about 4 am, I was roused from my sleep by the sound of heavy construction, but it truly wasn't anything that would keep me from falling back to sleep. As the day began, and it was time to take kids to school and begin the work day, I noticed that water was flowing in the home, normal operations of life had returned. A quick trip to the front drive revealed the remnants of the early morning repairs. A small hole cut and filled in the drive, proper caution cones, and lots of muddy run-off.
We may have a $60,000,000 football stadium, but we have priceless city services too!