Close Call in McKinney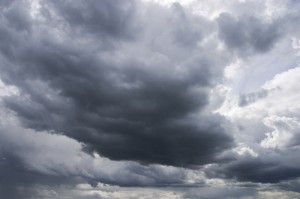 We had just left shopping at the Hope Fellowship around 7pm. I was keeping a keen eye on the Samsung Note as it showed my WFAA weather app and the approaching storms. We left the parking lot and the wind began picking up briskly. Traffic was fairly heavy, and we had a long wait at the intersection of US 380 and US 75.
As we waited for the light to change, small hail began to strike our new 2014 Pathfinder. I wanted to get to shelter ASAP. The light changed and I dashed under the 75 overpass. I quickly realized that stopping under the bridge would not be the best choice. Up ahead I could see the Bank of America, Wells Fargo, and a car wash. I drove to the entryway and zoomed around to the BoA drive through. It was an idea that a little over half-a-dozen of my fellow travelers claimed too. Under the protection of the carport, we could sit and listen to the weather, and watch what transpired.
The hail increased in intensity, but never got larger than a nickle. After about 5 minutes, it had stopped hailing and the torrential rain began. The wind also picked up speed. Across US380, we saw the flag pole at the Chik-fil-a swaying with the flag standing straight out, pointing east. The radio, weather map on the phone, and all visual indicators told of a massive super storm coming down US380 from the west. There was a hook echo on the radar. Since the hail had stopped, I decided to head home, toward Allen, south of where we were about 8 miles. I got the favor of a green signal at US380 and US75 and was quickly on the southbound lane of 75, Central Expressway.  The rain was tapering off, but was still intense. Just a couple of cars and vans travelling the same direction caused my speed to adjust. It seems the significant construction along that part of 75 and the driving rain, made driving a bit more challenging. Nevertheless we forged on. The further we got, the rain intensity lessened exponentially. In 3 miles we were at US75 and SH121, Sam Rayburn Tollway. Central Expressway was dry as a bone.
We could look back behind us and to the west and knew that something bad was going on, but for us, on this Thursday evening, we had our north Texas storm near miss.  We did not have to suffer. For those that did, we extend our prayers and sympathy.