One of my favorite pies, but no one makes them in mass production.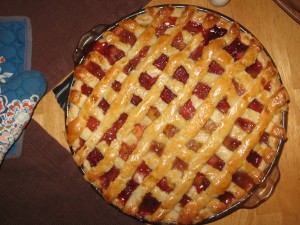 RHUBARB PIE
1 1/2 cups sugar
3 tablespoons flour
1/2 teaspoon nutmeg
1 tablespoon butter
2 eggs
3 cups rhubarb, chopped
Blend sugar, flour, nutmeg into butter, add the eggs and beat until smooth. Add rhubarb. Pour into an unbaked pie shell, top with strips of pastry and bake in a preheated 425°F oven for 10 minutes.
Reduce heat to 375°F and bake until filling thickens – about 30 minutes.