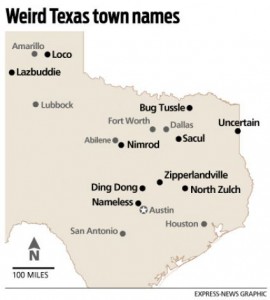 It was 1880 and the residents of a tiny Travis County community were ready to make the jump to the big leagues by getting a post office.
That required getting the town name approved. The locals applied, but federal postal officials rejected their town name. So they suggested another. It was turned down, too. So they tried a third name. It was denied.
After the sixth rejection, historians and folklorists say, residents sent a curt note to the U.S. Postmaster: "Let the post office be nameless and be damned!"
And thus the town of Nameless, Texas, was born.
The town long since has been abandoned and exists only as a stretch of Hill Country waiting to be developed by rich guys from Austin. But it's one of the hundreds of oddball and unusual names dotting the maps of the Lone Star State.
While a complete list would include hundreds of names, it's possible to pick up on certain patterns.
Towns usually adopted names for specific reasons, says Rhett Rushing, a folklorist at the Institute of Texan Cultures.
Still others, he said, named their small towns after large cities as a way of garnering attention.
That explains the Texas World Tour of town names, which includes Atlanta, Detroit, Paris, Carthage, Dublin, Naples and Port-Au-Prince.
Other names, Rushing says, describe a town's roots.
Bovina sprouted at a rail terminal where cattle were shipped to market. Muleshoe grew around a blacksmith's shop.
There are American Indian names, such as Bedias and Nacogdoches and geographic names, such as Brushy Creek and Plains.
Other times, there's geographic irony. Grandfalls is in a desert. Maple sits on treeless plains. And Big Lake doesn't have one.
Domicile-themed names include Home, New Home and Mountain Home, but the most inviting name of all might be Sweet Home.
More good vibes can be found in Happy, Joy, Utopia, Paradise, Eden, Placid, Prosper and Loyal Valley.
Some town names beckon for action: Grow, Draw, Tell, and Crow. Others are downright bossy, such as Needmore and Circle Back.
Hungry? There's Oatmeal, Okra, Muenster, Lollipop and Apple Springs.
Male names are found loitering all over the map, including Melvin, Nolan, Seymour, and Chester.
Not every town is that casual. Please address the following towns by their full name: Ben Arnold, Ben Wheeler, George West and Tom Bean.
Women are represented, too: Celina, Anna, Maud, Louise, Edna, Sarita, Alice,Donna, Mercedes, and Maybelle. Some places just wanted a vague female vibe, such as Sisterdale and Lovelady.
Iraan combines the names of Ira and Ann Yates, children of a local rancher. There's a town named after brothers I.B. Bell and Z.O. Bell, who were known to locals as Ding and Dong. Hence Ding Dong, a wide spot in the road near Killeen.
Sacul and Reklaw, both in East Texas, were intended to be Lucas and Walker, respectively. But when the post office turned them down, town leaders reversed the spelling of each. Byspot, another East Texas town, reverses the first name of Topsy Bennett, wife of a local mill owner, with a "B" tacked on the front for good measure.
Sometimes, there's confusion when towns are placed in counties.
Seguin is in Guadalupe County, but Guadalupe is in Victoria County. Mentone is in Loving County but Loving is in Young County. There are other examples, but the winner is a long one: Athens is in Henderson County, Henderson is in Rusk County, Rusk is in Cherokee County and Cherokee is in San Saba County, which, surprisingly, is home to the town of San Saba.
And then, there are the names that are flat-out bizarre: Weeping Mary, Zipperlandville, Fly Gap, Looneyville, Fluvanna, Loco, Noodle, Cut And Shoot, Gun Barrel City, and Lazbuddie.
Some names have simple back stories.
Bug Tussle got its name, according to one story, because the bugs were so thick, residents had to fight their way through the swarms.
Uncertain (located near Marshall in Northeast Texas) either comes from tugboat captains uncertain of how to navigate Caddo Lake or residents uncertain whether they lived in the United States or the Republic of Texas.
Dime Box sprang forth from nearby Old Dime Box. New Braunfels comes from the German town of Braunfels. But in the case of North Zulch, the original town of Zulch is gone, which makes it even sillier.
It's difficult to list every unusual Texas town name. The perfect place to do it, however, would probably be in Jot 'em Down, a bustling town of 10 residents in Delta County.
Read more: MySanAntonio