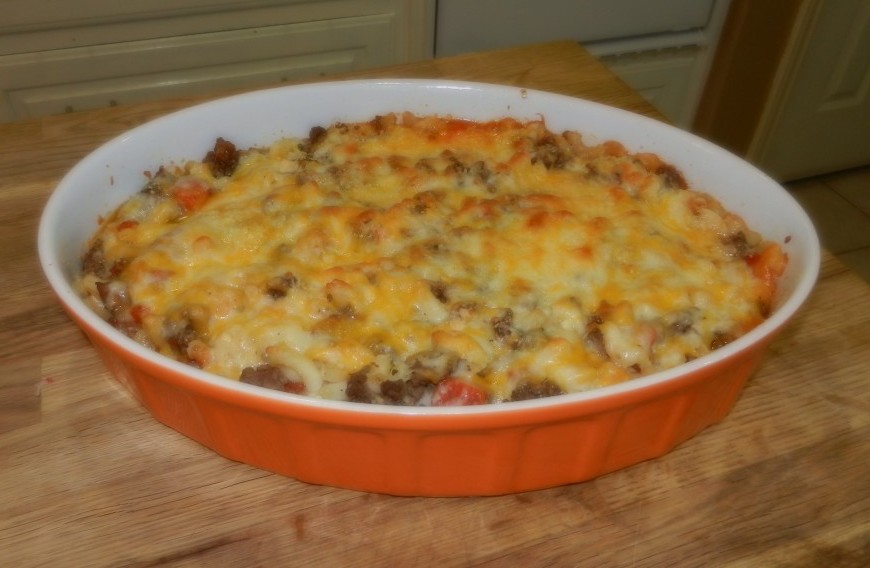 I'm always on the lookout for something that sounds tasty. This one hit the spot. While it isn't as quick and easy as I normally like, it certainly wasn't rocket science.
1 ½ lbs. ground beef
1 onion, diced
3 cloves garlic, minced
1 ½ c. elbow macaroni
1 15 oz. can diced tomatoes Italian style
1 8 oz. can tomato sauce
½ tsp. Italian seasoning
8 oz. shredded cheese mix (mozzarella or mexican)
salt and pepper.
Preheat oven to 350°F.
Brown beef with diced onions, drain excess liquid. Cook and drain macaroni to just before al dente.
Add macaroni to beef with canned tomatoes and tomato sauce. Add Italian seasoning, salt & pepper, and mix until macaroni is coated. Turn mac and beef into a greased casserole dish and sprinkle the shredded cheese mix or mozzarella.
Bake for 25 minutes. Serves 6 to 8.